Als Spotify liefhebber van het eerste uur bouw je een band met zo'n bedrijf op. En elke nieuwe muziekdienst die volgde, bekeek ik met ogen zoals van Gaal de pers bekijkt. Vijandig, vanuit een zetel, minachtend. Begrijp me niet verkeerd koning Louis is de beste Nederlands trainer ooit, misschien wel de beste van de wereld. Maar dat wist hij allang. Net zoals Spotify allang wist dat zij de beste zijn. En die arrogantie, ja die eigenlijk typisch Amerikaanse arrogantie gaat onze Zweedse vriendjes hun mooie vikinghoofdje kosten.
De firma Spot en Identify heeft vanuit hun bubble besloten om het niet meer zo nauw met de privacy van hun gebruikers te nemen:
Depending on the type of device that you use to interact with the Service and your settings, we may also collect information about your location based on, for example, your phone's GPS location or other forms of locating mobile devices (e.g., Bluetooth). We may also collect sensor data (e.g., data about the speed of your movements, such as whether you are running, walking, or in transit).
De reacties op het internet zijn niet mild, vooral de opmerkingen van Markus Persson (eigenaar Minecraft) aan het adres van Daniel Ek (oprichter Spotify) zijn raak: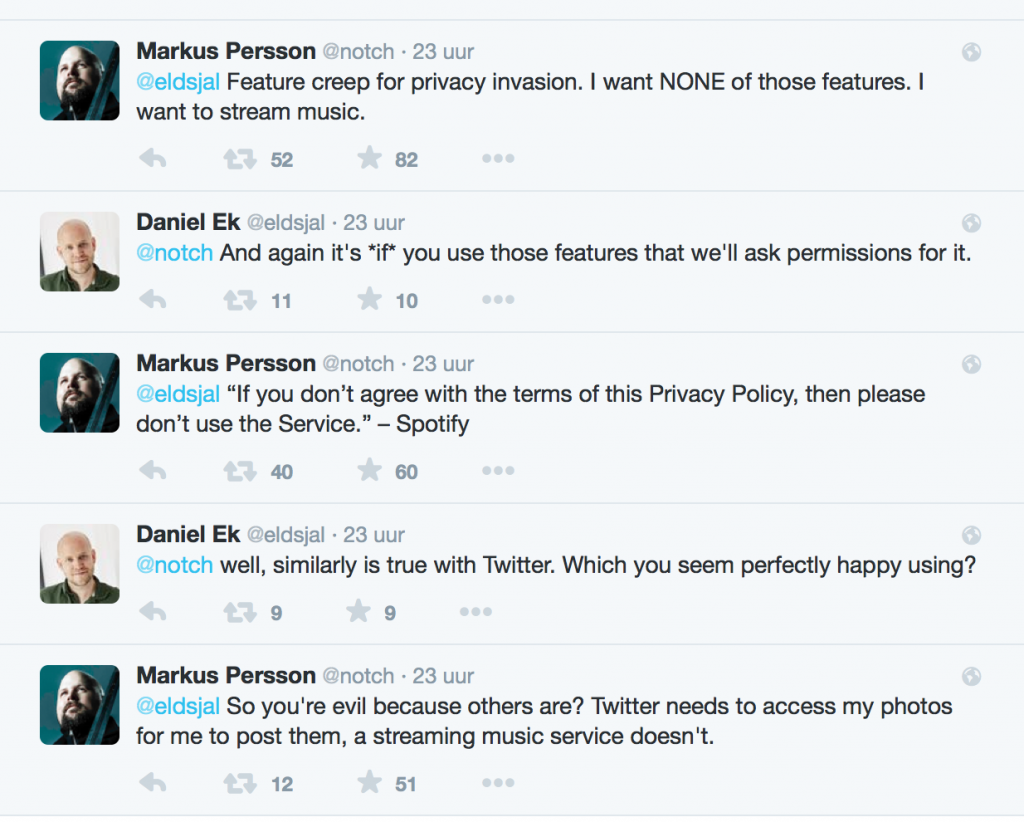 Creepy is het inderdaad wanneer een muziekdienst je foto's kan bekijken. Of je locatie kan bepalen. Tekenend is dat Spotify op een kromme manier probeert te weerleggen alsof ze tot een soort fitnesstracker-dienst zijn getransformeerd. Ik wil onvoorwaardelijk muziek kunnen streamen! Unique-R zoekt voortaan zijn heil bij Tidal of Deezer en hoopt dat zijn username nog vrij is.